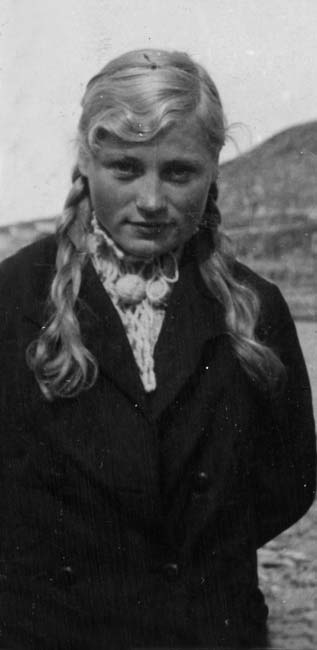 May 31, 1942 was no ordinary school day for the young schoolgirl Hanna. She was 17 years and from Dnipro, Ukraine. The Germans came to visit, and they ordered their classmates into cow wagons. The railway was to take them far, the journey then continued by ship.
The Germans occupied the area on August 25, 1941.
Hanna was picked up at the school. Germany was in great need of labor during World War II. Therefore, foreign people were captured and put into forced labor. Together with 150 other Ukrainian young women, Hanna was transported in railway carriages and in cargo holds on ships to Hammerfest. On the ship, they were told that they would work and go to school. No one knew where they were going and when they arrived on June 22, 1942, no one had heard of Hammerfest before.
There was no schooling for the girls. They filleted and packed fish at the large fillet factory that the Germans had established to provide fish for the German troops and the civilian population.
They worked two shifts and received wages, but after deductions for board, lodging and an extra tax, there was almost nothing left. On Sunday, they were allowed to go to the cinema to watch German propaganda films. The girls lived in barracks. There was a barbed wire fence with German guards around.
Contact with locals was forbidden. There were also Norwegians who worked at the fillet factory. At the beginning of June 1942, 792 Ukrainian civilian forced laborers arrived at a frozen fillet factory in Bodø. Fisheries were a priority area according to the work obligation of July 1941, the need for labor was definitely present. There were 150 Ukrainian women in place in Hammerfest at the aforementioned frozen fillet factory.
On October 7, 1944, the Red Army started, which consisted of approx. 50% Ukrainians, an offensive against the German forces on the northern front. On October 28, 1944, an order came from Adolf Hitler for the forced evacuation of the civilian population and the tactics of the scorched earth.
The operation of the fillet factory in Hammerfest stopped and the freezing equipment was dismantled and sent to Svolvær. The female workers were sent to Svolvær and Bodø, where they worked at fillet factories until 8 May 1945.
Most Ukrainian girls and women working in the fillet factories were sent home during the summer of 1945.
Hanna Anni first noticed the steep mountains around the city. The houses were also strange and different ones at home in Ukraine. But the name of the place was not so difficult to pronounce: Hammerfest.
For Hanna Anni, however, the captivity ended well. There was a wedding in Norway and a name change to Hanna Anni Evensen after the liberation. Hanna Koljada remained in Norway. In Hammerfest she had become acquainted with the Norwegian Jocob Evensen. On 31 May 1945, the two married in Bodø and later returned to Hammerfest. Hanna Koljada became Hanna Anni Evensen. Hanna has never been back to Ukraine.
Hanna Anni had experienced hunger under Stalin, Holodomor, despite the fact that Ukraine was referred to as "Europe's granary".
- We fried potato peelings for dinner, she remembers.
This autumn 2014, Hanna Anni Kolodja Evensen turned 90 years old, but in the autumn of 1944 she was only 20 and pregnant in the 4th month with her first child, a boy. The father was her later husband Jakob Evensen, a young man from Hammerfest who had to flee Finnmark a while before. (It was a criminal offense to have intercourse with the Ukrainian girls). When Hanna Anni was evacuated, it was with the other young girls. Together with them, she felt quite safe, she says when Dagsavisen visits her at home in her house in Hammerfest. Only a tiny hint of accent reveals that she grew up on the mighty Dnieper River.
- We were like a flock of sheep, were just chased on board and did not know why this happened or where we were going. But when you are a young, strong girl and are with people you know, you will not be so scared anyway. We were seasick, of course. I was so ill that I was allowed to lie on a bench upstairs with the skipper, with a bucket next to it. He was kind, Evensen tells Dagsavisen.
- Afterwards, I probably thought most about the many families in Finnmark who lost everything they owned. In any case, I had nothing from before, says Evensen, who together with the other girls ended up in Svolvær in Nordland. There they were put to work at a new fish factory. When peace came, she was reunited with Jacob, and they married at the end of May 1945. Only 17 years later did she meet her Ukrainian mother again. Then they had not seen each other since the day she as a 17-year-old crying was forcibly sent to Norway. Now she could tell her mother about the four children she had had, but that her eldest, the boy who was on his way when she evacuated, unfortunately drowned when he was seven.
Of all the things I have experienced in my life, this was the worst: Losing a son. But you know, people tolerate a little. When you have to, you have to, the Ukrainian says.
- Now I have lived here in Norway for over 70 years. But sometimes, when I can not sleep at night, I think about when I was a little girl in Ukraine. I lie awake thinking about what my village looked like. It's like that, when you get older. You look back more.
Hanna Anni (Koljada) Evensen
Født: 7. oktober 1924
Død: 20. august 2020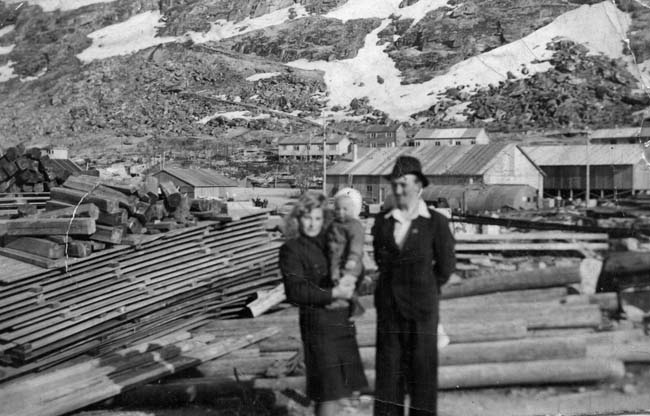 Anni og Jacob Evensen med lille Hans Petter på armen i brakkbyen Hammerfest i 1945
No memorial in Norway for the Ukrainians forced labours
There is no memorial in Norway for the prisoners of war or the forced labours, both children, woman or men in Norway. Do the do they deserve this?
Source:
- Michael Stokke, Narviksenteret
- Dagsavisen
- goggen.net