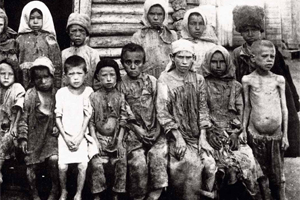 Oleksa Sonipul was 10 in 1933 and lived in a village in northern Ukraine. She said by the beginning of that year, famine was so widespread people had been reduced to eating grass, tree bark, roots, berries, frogs, birds, and even earthworms.
But Communist requisition brigades looking to fulfill the impossibly high grain quotas continued to search even those villages where inhabitants were already dying from starvation. They used metal poles to probe the ground and potential hiding places where they suspected grain could be hidden.

Some of the brigade members, fueled by Soviet hate campaigns against the peasants, acted without mercy, taking away the last crumbs of food from starving families knowing they were condemning even small children to death. Any peasant who resisted was shot. Rape and robbery also took place.

Oleksa Sonipul described what happened when a brigade arrived at her home:
- In 1933, just before Christmas, brigades came to our village to search for bread. They took everything they could find to eat. That day they found potatoes that we had planted in our grandfather's garden, and because of that they took everything from grandfather and all the seeds that grandmother had gathered for sowing the following autumn. And the next day, the first day of Christmas, they came to us, tore out our windows and doors and took everything to the collective farm.
Fedir Burtianski was a young man in 1933 when he set out by train to Ukraine's Donbas mining area in search of work. He says thousands of starving peasants, painfully thin with swollen bellies, lined the rail track begging for food. The train stopped in the city of Dnipropetrovsk and Burtianski says he was horrified by what he saw there.

- At Dnipropetrovsk we got out of the carriages. I got off the wagon and I saw very many people swollen and half-dead. And some who were lying on the ground and just shaking. Probably they were going to die within a few minutes. Then the railway NKVD [secret police] quickly herded us back into the wagons."

Grain and potatoes continued to be harvested in Ukraine, driven by the demand of Stalin's quotas. But the inefficiency of the Soviet transportation system meant that tons of food literally rotted uneaten -- sometimes in the open and within the view of those dying of starvation.


Mykhaylo Naumenko was 11 years old in 1933. His father was executed for refusing to join a nearby collective farm. Mykhaylo was left with his mother and siblings to face the famine without a provider. He said people were shot for trying to steal grain or potatoes from the local collective farm, which was surrounded by barbed wire and guarded by armed men. He said people were executed even for trying to pick up a few loose seeds dropped on the ground. - A tragedy developed. People became swollen, they died by the tens each day. The collective farm authorities appointed six men to collect and bury the dead. From our village of 75 homes, by May 24 houses were empty where all the inhabitants had died.
The memories that seem to haunt them most are those of watching their loved ones die. Teodora Soroka, who lost nearly every member of her family to "dekulakization" and famine, says such memories can never be erased. Nor does she want to forget them: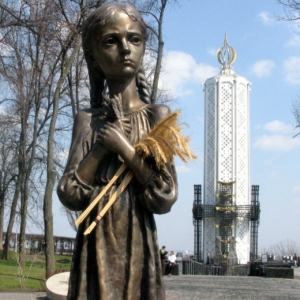 - My little sister died of hunger in my arms. She was begging for a piece of bread, because to have a piece of bread in the house meant life. She pleaded for me to give her a bit of bread. I was crying and told her that we didn't have any. She told me that I wanted her to die. Believe me, it's painful even now. I was little myself then. I cried, but my heart was not torn to shreds because I couldn't understand why this was all happening. But today, and ever since I became an adult, I haven't spent a day in my life when I haven't cried. I have never gone to sleep without thinking about what happened to my family.
Source: rferl.org