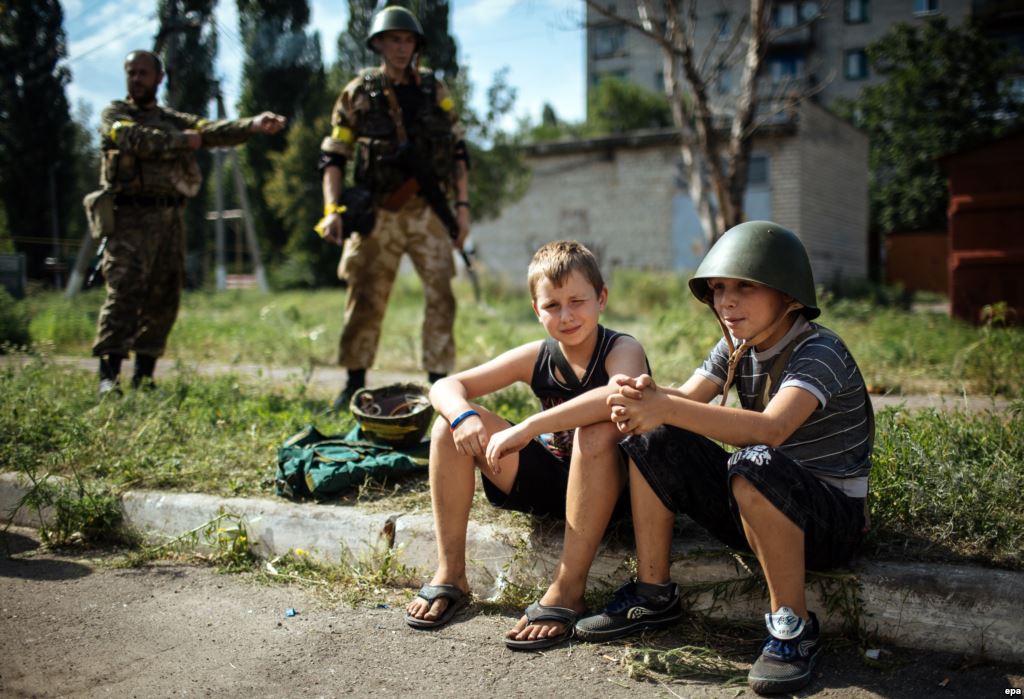 Russia is stepping up war and violence in eastern Ukraine
430,000 children continue to bear the brunt of eastern Ukraine conflict
Despite recent developments intending to protect the rights of children affected by eastern Ukraine's more than five-year-long conflict, nearly half a million girls and boys continue to face grave risks to their physical health and psychological well-being, said UNICEF today.

"It is unconscionable that children in eastern Ukraine continue to go to schools with bullet holes and bomb shelters and live in neighbourhoods that are intermittently shelled and littered with landmines," said UNICEF's Regional Director for Europe and Central Asia, Afshan Khan, who recently returned from meeting children and families in eastern Ukraine. "A political solution is long overdue. We call on all parties to the conflict to end the fighting in eastern Ukraine."
The area between Donetsk city in the north and the government-controlled city of Mariupol is among the places where fighting has flared up again in the past month, with casualties on both sides
The Ukrainian defense thus reports that nine of their soldiers have been killed since mid-February.
We do not know how many of the separatist soldiers were killed, but the losses are probably just as great on the other side of the front line.
At the same time, the UN Commissioner for Human Rights reports that 8 people have been killed by mines in the conflict area in eastern Ukraine since August 2020, 28 have been injured by mines.
The Covid-19 virus is also a threat to both soldiers and the civilian population in the conflict area.

Ukraine's Health Minister Maksym Stephanov wrote on Facebook on Thursday that in just 24 hours, 262 people had died as a result of the corona epidemic. In total, the death toll is now approaching 28,000.
It was near the village of Starognatovka in Donetsk Oblast that on Thursday night new fighting broke out.
As a result of the shooting, a Ukrainian soldier was badly wounded. He later died of his injuries, although he, according to the Ukrainian military, quickly came under treatment.
Starognatovka is close to the front line between Ukrainian government forces and Russian-backed separatists.
Children have become victims of landmines, been shot or struck by shelling and even been run over by military vehicles. War leaves many kids with deep psychological trauma.
More than five years of conflict have been devastating for children on either side of the contact line. This includes;
172 children, the youngest a one-year-old girl, have been injured or killed due to mines or other explosive remnants of war.

36 attacks on schools were reported this year alone, including one school being damaged 15 times. Over 750 educational facilities have either been damaged or destroyed since the conflict began.

Vital water and sanitation infrastructure have come under attack 80 times this year. There have been more than 300 of these incidents in the last three years.

430,000 children live with psychological wounds and need ongoing support to address the emotional trauma of growing up in a prolonged conflict.

2 million children, women and men are at risk of death and injury from landmines and other explosive remnants of war, as eastern Ukraine is now one of the most mine-contaminated places on earth.
More information here: