children from the east of Ukraine
Culture exchange
To our planned event "Support to the people of Ukraine" in late November 2020 we have a goal to invite young people from the east of Ukraine, the warzone. We invite them to join the culture part of the event to get experience with the culture from Nordic countries.
Among other, we have invited a group of children and young people to come and show us a performence they call "The children of war".
But it was a long and expensive journey from the east in Ukraine to Oslo. And so far we have no budget for this invitation. We are working hard to get this in place. But we depend on sponsors and donors. Our team is voluntary and works for us for free.
If you want to be our sponsor you may read more here.
If you are are private donor, please read more here.
Read also "Don't call it a civil war – Ukraine's conflict is an act of Russian aggression"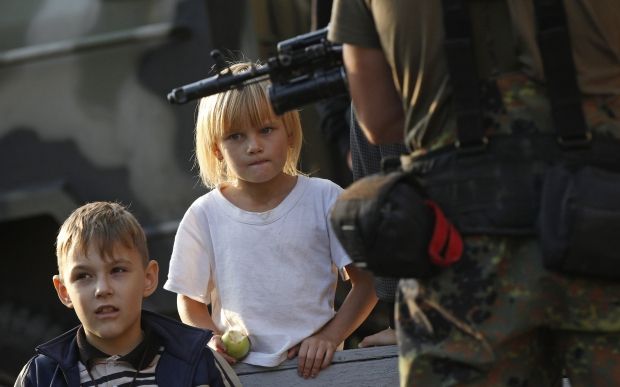 he results of a psychosocial assessment of children
According to the United Nations Children's Fund (UNICEF), "The results of a psychosocial assessment of children in Donetsk Oblast in Eastern Ukraine are deeply troubling ... and indicate that about half of all children aged 7-18 have been directly exposed to adverse or threatening events during the current crisis." OSCE monitors spoke to refugees from Donetsk city in Zaporizhia. They said that men were "often not allowed" to leave the city, but were instead "forcibly enrolled in 'armed forces' of the so-called 'Donetsk People's Republic' or obliged to dig trenches"
Help us in helping
We invite you to join our team, to help us at the conference in Oslo, to donate or to be a sponsor.