Lyngdal municipality initiates friendship with Kryvyi Rih
Lyngdal municipality had the first online meeting with Kryvyi Rih to talk about the possibilities for cooperation. The first online meeting was very positive.
When we in Support to the people of Ukraine and Lyngdal had the event together to show solidarity with the Ukrainian people the 24 February, the Head of Kryvyi Rih Defense Council Oleksandr Vilkul send a video message to the people in Lyngdal.
Dear our Norwegian friends and Ukrainians who found shelter in Lyngdal!
Greetings from Kryvyi Rih, a Ukrainian fortress city which, at the beginning of russia's full-scale military aggression against our country, stood in the way of the enemy advance to Central Ukraine.
We successfully defended the city and did not allow it to be captured, and since then our city has played a key role in protecting the south of Ukraine from Russian troops. Kryvyi Rih is also a humanitarian hub. In our city, we accepted more than 80,000 internally displaced persons from settlements that suffered from Russian aggression.
The city government has created 86 places of compact accommodation, provides free three meals a day, medical and psychological assistance. I'm happ to see that Ukrainians, who were forced to leave their hometowns and villages, are receiving support in other countries as well.
Despite the distance of more than 2,700 kilometers from Lyngdal to Kryvyi Rih, Norway is a close country for us. We can very well feel the warmth of your hearts.
I sincerely thank Mayor Jan Kristensen and the authorities of the Lyngdal commune for their openness to cooperation and willingness to help Kryvyi Rih! I am also grateful to Per-Kaare Holdal, head of the Support to the People of Ukraine organization, for establishing communication between us.
I really hope for fruitful cooperation between Lyngdal and Kryvyi Rih and look forward to the opportunity to meet. At first online, but in the future we will definitely see each other in person - after our common Victory! We will be deeply grateful for the help from Lyngdal, which the residents of Kryvyi Rih and internally displaced people now need.
Together to Victory!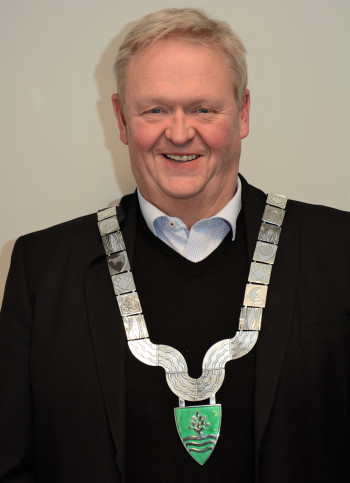 Lyngdal municipality has shown solidarity with Ukraine ever since the brutal invasion on 24 February 2022. Already at the beginning of March 2022, they took the initiative to transport 18 tons of humanitarian aid to Ukraine. Lyngdal was also the first municipality to erect a monument to the efforts Ukraine made for Norway during the Second World War.
Lyngdal municipality was also the first municipality in Norway to recognize the Holodomor as genocide.
- As part of aid to Ukraine, we have now started talks with Kryvyi Rih to establish a friendship. We also want, together with the Norwegian authorities, to provide possible help both in the short and long term, says mayor Jan Kristensen. - Kryvyi Rih is in the border zone of the brutal war and is affected by the attacks, missiles and drones hit civilians and it is both a duty and a necessity that we can contribute with what is possible, says mayor Kristensen in Lyngdal municipality.
Lyngdal 24.2.2023


Support to the people of Ukraine