A monument in memory of the Ukrainian hero Fedir Kompaniyets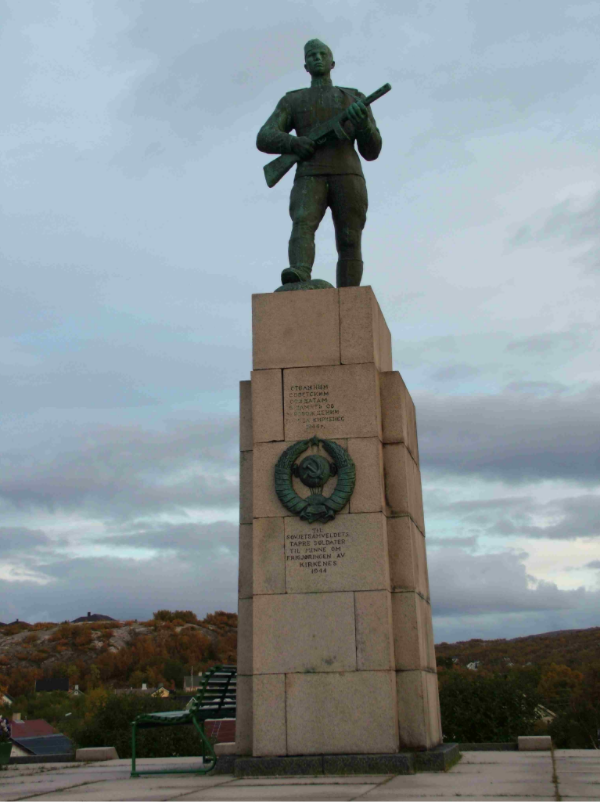 This little story is about the Ukrainian soldier Fedir Kompaniyets, who became a hero who liberated Norway and was the first leader to enter a free Kirkenes.
Fedir was born on August 3, 1918 in the village of Mefedivka in the Sumy region of Ukraine. This is the city that is currently being bombed all over by Russia.

In 1930, he graduated from school and began working in the local kolkhoz, a collective farm created by Soviet power. In 1932-1933, the family survived the Holodomor - a man-made famine organized by Stalin to break Ukraine.
In 1939, Fedir was conscripted into the Red Army. He fought in the front line right from June 1941. He was part of the Northern Navy and was wounded twice. Early in the morning of 25 October, the 253rd Infantry Regiment of the 45th Infantry Division of the Soviet 14th Army crossed the Bøkfjord from Jakobsnes to the Karelian Army Group. Among them was the squad of senior sergeant Fedir Kopaniyets`. Under heavy fire, Kompaniyets' squad crossed the Bøkfjord and provided covering fire to the other divisions of the battalion that crossed the bay. Fedir was 26 years old when he and his squad entered Kirkenes to liberate Norway from the Nazis.
According to estimates by Ukrainian researchers, almost 6 million soldiers from Ukraine fought in the Red Army. One should also not forget the quality of the soldiers. Among officers and soldiers who were awarded orders and medals during 1941–1945, there were about 2.5 million Ukrainians. For exceptional courage, 2 thousand Ukrainians were awarded the title Hero of the Soviet Union. Hero of the Soviet Union was awarded to the Ukrainian soldier Ivan Kozhedub three times and 32 Ukrainians were awarded it twice.
The hero who greatly contributed to Norway's freedom died on 24 November 1976 in the village of his childhood. Fedir Kompaniyets' received neither honor nor thanks from the Norwegian authorities for his efforts for our freedom. By the way, no Ukrainian has received it yet… But The Golden Star of the Hero of the Soviet Union adorned the chest of the brave warrior in his grave.
Therefore the monument in Kirkenes will always be in memory of the Ukrainian hero Fedir Kompaniyets.