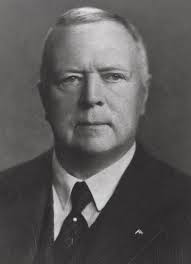 Johan Ludwig Mowinckel 22 October 1870 – 30 September 1943) was a Norwegian statesman, shipping magnate and philanthropist. He served as the Prime Minister of Norway during three separate terms.
In 1925 he became a member of the Nobel Peace Prize Committee. He played an important role in helping the Ukrainian people during the Holodomor genocide against the Ukrainian people in 1931-32.
On September 29, 1933 Johan Ludwig Mowinckel initiated discussions about famine i Ukraine at a meeting of the Council of the League of Nations. The Council submitted the issue to the International Committee of the Red Cross. But Moscow rejected the proposed aid to the starving people.
For the Ukrainians themselves, it was dangerous not only to write about these events in the mass media, letters to the party leaders or relatives living abroad, but also to mention this in private diaries. This was able to ruin the life, led to the decades in prison. However, in spite of all the dangers, there were people who felt the responsibility towards the next generations. For example, Metropoilitan of the Ukrainian Greek Catholic Church Andrey Sheptytskyi, writers Ulas Samchuk and Vasyl Barka, Ukrainian public and political figure Milena Rudnytska, British journalists Malcolm Muggeridge and Gareth Jones, Prime-Minister of Norway and President of League of Nations Johan Ludwig Mowinckel, amateur photographer from Donetsk oblast Marko Zhelizniak, American journalist William Henry Chamberlin, teacher from Kharkiv Oleksandra Radchenko, farmer Nestor Bilous, who could not be silent and tried to tell the truth. In the 1980s, British historian Robert Conquest and American historian James Mace reminded the world about the Holodomor as the crime of genocide.
Johan Ludwig Mowinckel was personally acquainted with Norwegian traveler and public figure Fridtjof Nansen, who in 1932-1933 organized the aid to the Ukrainian farmers. On October 20, 1933, M. Danko, the correspondent of Lviv newspaper "Dilo," wrote that Mowinckel "will remain in the history of the Ukrainian struggles in Europe." Children from the Ukrainian community of Czech city of Podebrady (Czecho-Slovakia) thanked Johan Ludwig Mowinckel for his humanistic position regarding the protection of the starving people in Ukraine.
Appeal by the Ukrainian Central Comimittee for Assistance to Soviet Ukraine to the Head of the Council of The League of Nations, J.Mowinckel, on the Famine in Soviet Ukraine, signed by its leaders Milena Rudnytska and Zenon Pelensky, September 23, 1933.