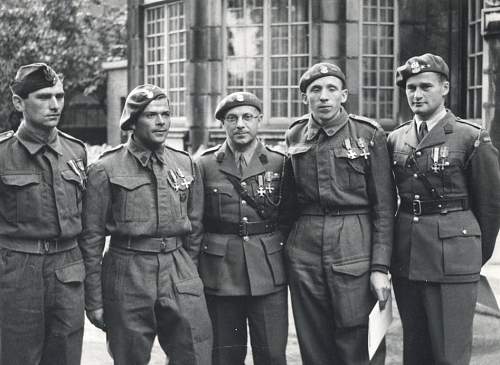 Wasyl Cykwa's later William Campbell (born 1914, died July 2004 in Glasgow) was a Polish-Ukrainian soldier during World War II. He distinguished himself in the battle of Narvik and was awarded the Norwegian War Cross with swords for his efforts.
Wasyl Cykwa 2 from left
Cykwas was born of Ukrainian parents in a village southwest of Lviv. The area was part of the Habsburg Empire and fell to Poland after it disintegrated. In 1937 he applied to France to find work. When World War II broke out with the German and Soviet occupation of Poland in September 1939, he enlisted in the service of the Polish government, which was in exile in Angers, France. He received military training in Coëtquidan, Brittany, and was transferred to the Independent Podhale Brigade.
After the German attack on Norway on April 9, 1940, it was decided to send Cykwas' branch north, as part of the Allied attempt to resist the invasion. The unit, like that of the French-Polish expeditionary force, was shipped out of Brest and sent via Scotland to Norway, where it was landed at Harstad on 9 May. After a few days it was sent to Narvik. During the battle of Narvik, Cykwas made a name for himself in the battles on Ankenesfjellet. The patrol he participated in fell into ambush, but Cykwas saved the situation by throwing hand grenades at the German attackers. In the match, Cykwas was injured in the foot. He was evacuated to Britain and, despite the injury, continued his service in the Polish / Ukrainian units in Scotland.
During the Allied landing in Normandy in June 1944, Cykwas served in the 3rd Infantry Brigade of the 1st Polish Armored Division. He participated in the liberation of France, then of Belgium and the Netherlands, and then took part in the conquest of Germany. In April 1945, he was transferred to the staff squadron of the 1st Polish Corps. He remained in service in Germany until his return to Britain in April 1947. In December of the same year, he graduated.
The post-World War II political upheavals made it impossible for Cykwas to return to his homeland in Ukraine, which had now become part of the Soviet Union. He settled in Scotland and changed his name to William Campbell.

There are no meomorial of the ukrainian efforts in Norway during the WW2.
Cykwas received the War Cross with Sword, Norway's highest award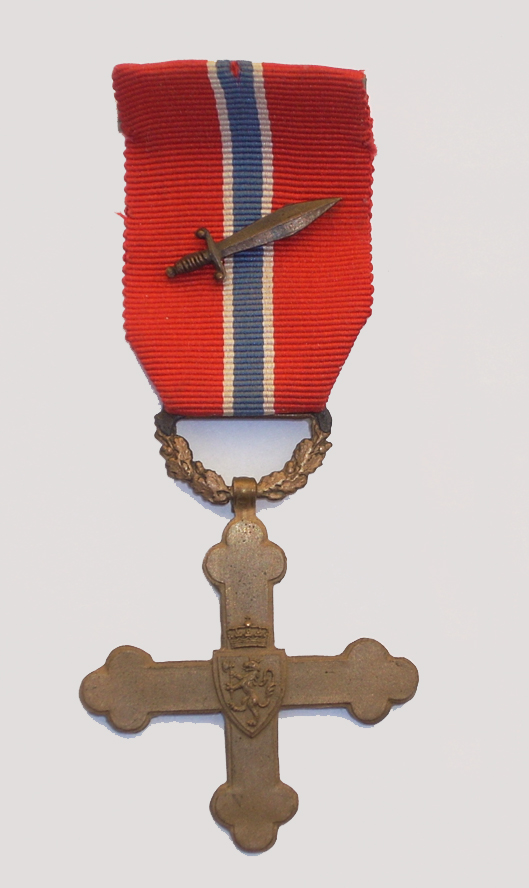 Photo: KEN
Source: Bratbak, Bjørn: «Ukrainer hedret med Krigskorset», Historie, nr. 4, 2006, s. 48–59