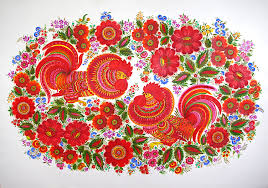 Traditional peasant folk art, embroidery and vernacular architecture are critiacl to Ukrainian culture, and its elements have often been determined by the resources available at the time. The countries strong tradition of folk art and embroidery continues to this day, with Ukrainian embroidery often considered an art form in itself.
Ukrainian embroidery takes the special place among other Ukrainian decorative arts. It is the result of complicated and painstaking labor, filled with great color variety and sacral ornaments. There are two variants of embroidery, manual and machine, which are used for male and female traditional Ukrainian shirts ("vyshyvanka"), dresses, towels ("rushnyk") and household items, such as tablecloth, blankets and pillowcases.
Ukrainian customs are heavily influenced by the Eastern Orthodox Church and traditions from Slavic mythology. The Soviet era unified the cultures of many unrelated nations with a common language and led to the appropriation of many of the socialist republics culture and identity. Because of the countries unique positions its culture has been influenced by both Western Europe, Russia and Asia.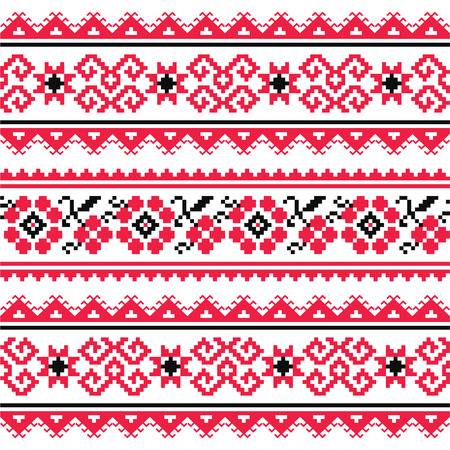 Needlework was traditionally considered to be exceptionally the women's work. Cross-stitching skill was inherited from grandmothers to mothers and then to their daughters.  Each family had its own recognizable symbols and patterns that made the great historical value for new generation. Nowadays some Ukrainian villages still have hereditary needlewomen, who can introduce national ornament features and teach some embroidery techniques.
Ukrainian painters are artists known in many countries of the world. Their works of art are original and their styles are unique. Here is the list of the most famous and outstanding Ukrainian artists.
Oleg Shuplyak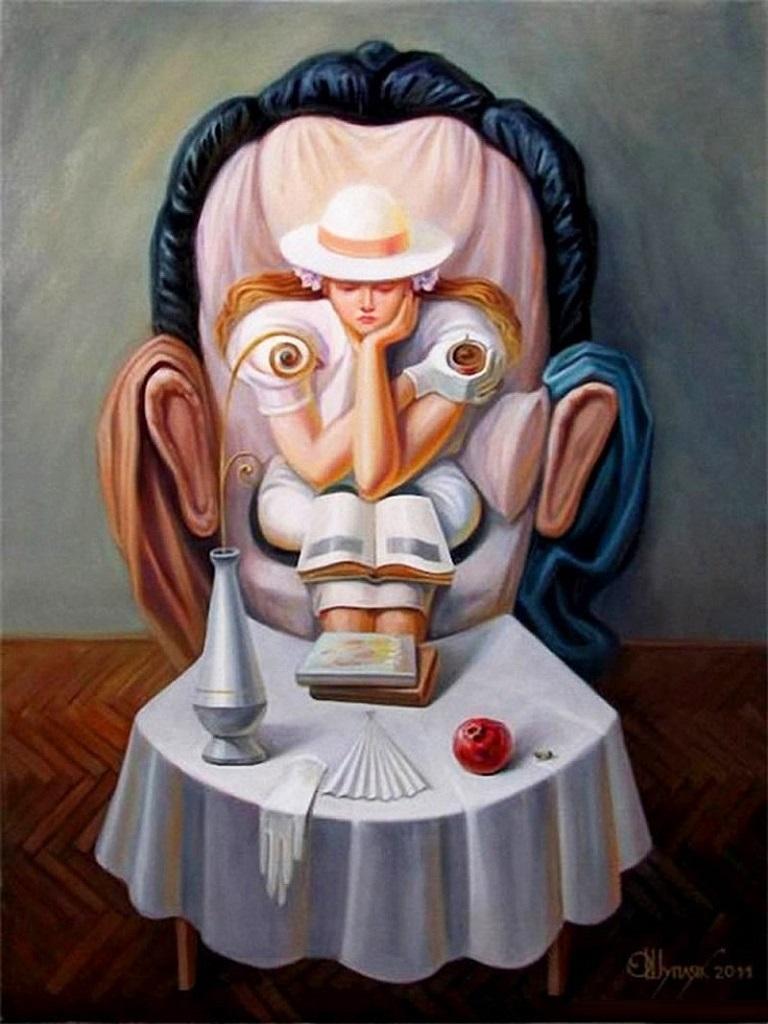 Oleg Shupliak is a contemporary painter from Western Ukraine. He creates paintings in the current optical illusion and is often called "a contemporary Salvador Dali". Shupliak creates two pictures in one painting. The painter is known for his talent for placing a second image behind main objects and characters of the firs image. A second image is a portrait of famous personality – John Lennon, Charles Darwin and many others.
Being a painter, Oleg Shupliak chose to be architect by profession. He uses the technical precision of an architect to create optical illusions. Shuplyak became one of the most famous illusionists of our time thanks to his unique approach in painting.