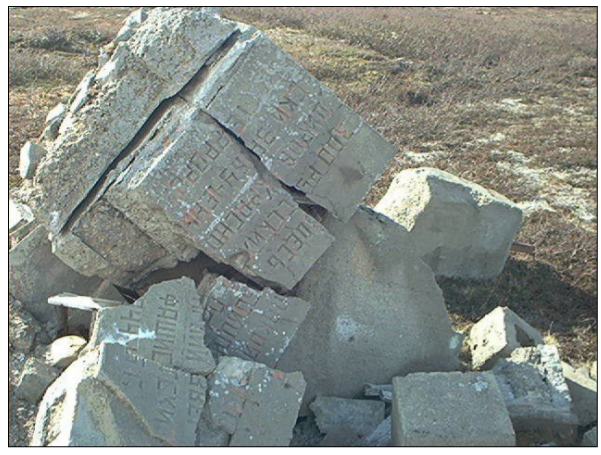 Norske myndigheter har gjort en stor urett mot det ukrainske minnet. Den innsatsen ukrainerne gjorde for Norge under 2. verdenskrig er aldri blitt verdsatt av norske myndigheter. Tvert i mot, minnesmerkene som ukrainere selv reiste dagene etter krigen ble ødelagt av norske myndigheter som en del av Aksjon Asfalt. De ble sprengt, knust og tilintetgjort.
Vi er derfor veldig glade for at byrådsleder i Oslo i dag behandler muligheten for et sentralt minnesmerke i Oslo. – Vi planlegger et minnesmerke. Et eller annet sted hvor det er mulig å gå og legge ned blomster og vise og markere, sa byrådsleder Raymond Johansen (Ap) i bystyrets forretningsutvalg mandag ettermiddag skriver Avisa Oslo.
Ukrainerne hadde minst 40% av tapene i Sovjetunionen i andre verdenskrig. Ukraina led de største tapene av alle europeisk land. I løpet av de seks krigsårene mistet Ukraina flere mennesker enn de totale militære tapene i USA, Canada, Det britiske samveldet, Frankrike, Tyskland, Japan og Italia samlet. Åtte millioner innbyggere i Ukraina drept, over halvparten i kamp. Millioner flere gikk tapt på grunn av utvisning, eksil og fordrivelse. Dermed, som et resultat av andre verdenskrig, reduserte Ukrainas befolkning med mer enn 10 millioner, en fjerdedel av befolkningen.

En vanlig misforståelse i vestlig historie fra 2. verdenskrig er at den røde hæren var russisk. I realiteten utgjorde den et stort antall ukrainere, polakker, jøder, alle nasjonaliteter i Sovjetunionen som var ofre for en eller annen type under krigen. Ukrainerne blir beskrevet som russere, sovjetere, polakker m.m. De har alltid kjempet og aldri godtatt noe annet enn at de er ukrainere. Det ukrainske krigsinnsatsen i Norge er ikke godt kjent, delvis fordi disse ukrainerne ganske enkelt ble regnet som russere eller polakker på den tiden.

En ukrainsk soldat mottok krigskorset med sverd etter 2. verdenskrig Norges høyeste pris. Det var under slaget ved Narvik gjorde ukrainske Wasyl Cykwas en heltemodig innsats i kampene på Ankenesfjellet.

Nupi-forsker Jakub M. Godzimirski uttalte i vårt webinar i slutten av november "Learning from the Past for the Future" at 30 prosent av soldatene i den røde hæren da Finnmark ble frigjort, faktisk kom fra Ukraina. Yana Primachenko, seniorforsker ved Institute of Ukrainian History, National Academy of Science of Ukraine sa på samme webinar: - Blant 11,5 millioner offiserer og soldater som fikk tildelt ordrer og medaljer i løpet av 1941–1945, var rundt 2,5 millioner ukrainere.

Berit Lindeman, Den norske Helsinki-komiteen, sa på samme webinar: - I 1994 flyttet jeg til Kiev sammen med familien min da mannen min ble utnevnt til 2. sekretær for den nylig åpnede norske ambassaden. Dette var bare noen uker før den store feiringen av 50-årsjubileet for frigjøringen av Finnmark, som regjeringen i Norge hadde invitert mange veteraner fra den sovjetiske hæren til Norge. Men ingen ukrainere, til vår bestyrtelse. Først og fremst syntes den svært engasjerte ambassadøren Øyvind Nordsletten dette veldig støtende, og til og med pinlig for Norge. Jeg tror ærlig talt at det var mer mangel på tenkning og kunnskap fra regjeringens side enn faktisk valg, som hadde resultert i denne uheldige situasjonen.

De siste årene har det blitt tatt initiativ til å gjenoppbygge minnesmerker i Norge som ble ødelagt av "Operasjon Asfalt" etter krigen. Bare Russland er invitert til å delta i gjenoppbyggingsarbeidet. Når det er minnemarkeringer, er det bare Russland som blir invitert. Vi spør hvorfor?

Vi fra S2PU forventer at våre norske politikere vil gjøre det riktig igjen og være med oss ​​og bygge et minnesmerke for ukrainernes innsats under andre verdenskrig i Norge. Vi har skrevet til alle politiske parti i Norge og bare et fåtall har svar oss så langt.
Vi tok initiativet til gjenoppbygging av et eget ukrainske minnesmerke i Norge i 2020 og håper vi virkelig at Oslo kommune lykkes i dette arbeidet.
Ref:
1. https://s2pu.com/index.php/en/ww2/petition-to-build-a-memorial
2. https://s2pu.com/index.php/en/ww2/the-history-of-ukrainian-heroes
3. https://s2pu.com/index.php/en/ww2/the-ukrainian-hero-of-war-who-fought-for-norway-s-freedom
4. https://s2pu.com/index.php/en/component/sppagebuilder/?view=page&id=221
5. https://s2pu.com/index.php/en/news/pa-norsk/163-norge-har-gjort-en-stor-urett-mot-det-ukrainske-minnet