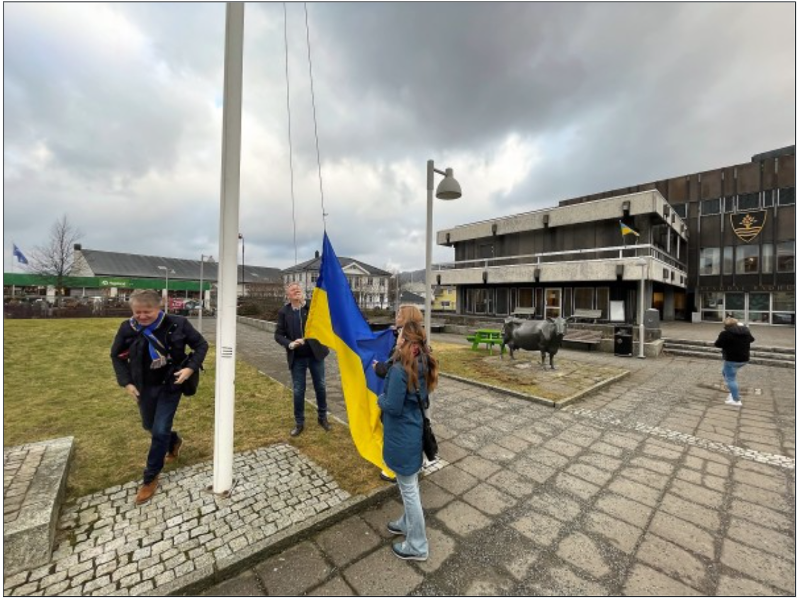 In the morning hours on Monday 28 February, Mayor Jan Kristensen hoisted the Ukrainian flag, in solidarity with the country's suffering population. Photo: Ole Åsmund Brattfjord, Lyngdal municipality
Lyngdal municipality in Norway responds to emergency calls from Ukraine! Mayor Jan Kristensen also challenges all the country's other municipalities, county municipalities and state administrators to contribute.

- It is the organization "Support to the people of Ukraine" that has invited me as mayor of Lyngdal to take the initiative for this action, where the purpose is to provide medical equipment for the heroes of Ukraine, says Lyngdal's mayor Jan Kristensen.
In the morning hours on Monday 28 February, he hoisted the Ukrainian flag in Rådhusparken, to show Lyngdal municipality's solidarity with the Ukrainian people who are now suffering from the ongoing Russian military aggression. But Kristensen is not content with raising the flag. He has responded to the challenge from "Support to the people of Ukraine", and forwarded it to all the country's municipalities, to the county municipalities and state administrators, with a call to contribute to this necessary action.
This is urgent
"Lyngdal municipality is in direct contact with the Ukrainian ambassador to Norway, Viacheslav Yatsiuk, who states that there is now a huge and screaming need for first aid equipment, to help the wounded, both private people and soldiers, in Ukraine. They have sent us a medical list of the need, and this will be followed when the funds are in place. We have a short time and have to make quick decisions, because this is urgent and there is a direct screaming need today ", Kristensen writes in his address to municipalities, county municipalities and state administrators.
He requests that a quick decision be made on whether they are involved, and that during Wednesday 2 March they transfer an amount they find appropriate to a separate Ukraine account set up by Lyngdal municipality.
- We will follow this up as soon as possible, and will aim to have the equipment ready by Friday afternoon, says mayor Kristensen. He acknowledges that the deadline they have set is short, but points out that every hour and every day counts. "The situation in Ukraine is desperate for so many soldiers, civilians and families," he said.
Lyngdal municipality will be responsible for the purchases in accordance with the priority list.
In cooperation with the Ukrainian ambassador, the logistics for sending the first aid equipment will be in place by the end of the week and will be shipped to Ukraine.
Contributions to the campaign can be sent to Lyngdal municipality's "Action Ukraine" account 2801.52.15897, or to Vipps account "Action Ukraine" # 737483. Alternatively, the QR code below can be used. And even though this challenge has been sent to municipalities and county municipalities, it is of course also an opportunity for private individuals to make their contribution to this action.