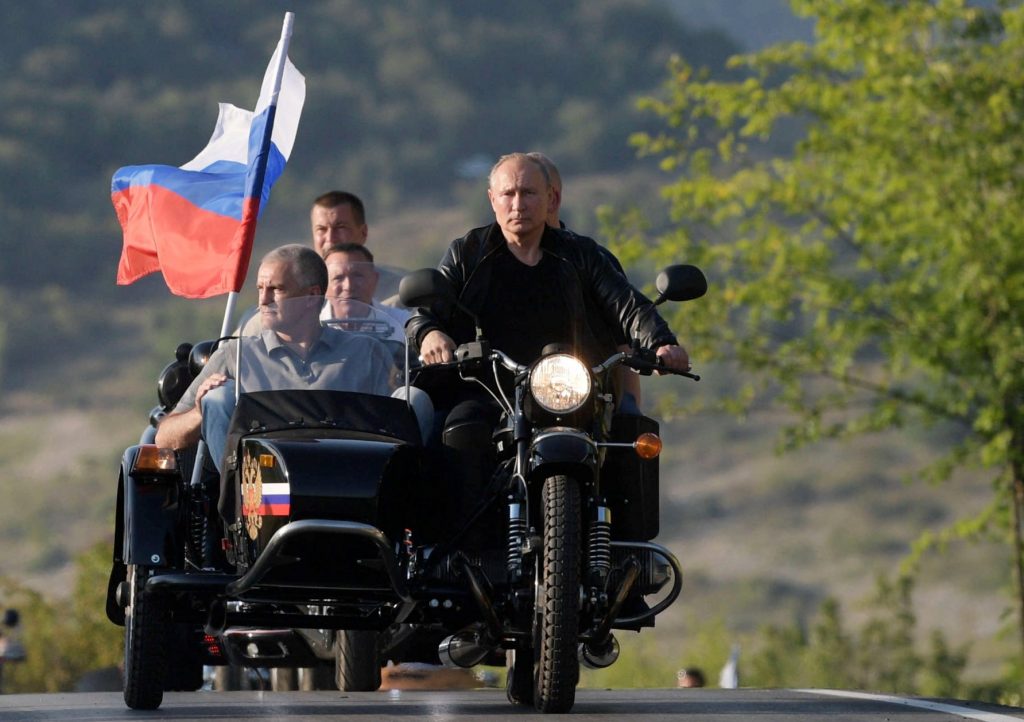 Russian President Vladimir Putin rides a motorbike in Russian-occupied Crimea during a summer 2019 visit. The occupation of Ukraine's Crimean peninsula in 2014 marked the start of an ongoing seven-year conflict that has been disastrous for Russian influence in Ukraine. (Sputnik/Alexei Druzhinin/Kremlin via REUTERS)
Russian President Vladimir Putin used this week's eightieth anniversary of Nazi Germany's WWII invasion of the Soviet Union to give his Ukraine conspiracy theories a fresh airing. In an op-ed entitled "Being Open Despite the Past" published on June 22 by German newspaper Die Zeit, Putin accused the United States of staging an armed coup in Ukraine seven years ago with the active backing of the European Union. "Why did America organize a coup, and why did the countries of Europe gutlessly support it?" he asked.
This is nothing new. Ever since millions of Ukrainians first took the streets in late 2013 to protest against the country's sudden turn away from Europe, Putin has consistently denied the agency of the Ukrainian population, insisting instead that the entire uprising was a big Western plot. In addition to blaming the US and EU for Ukraine's 2013-14 Euromaidan Revolution, Putin has also publicly held them responsible for the ensuing seven-year conflict between Russia and Ukraine.
It is not difficult to imagine why this narrative might appeal to Putin. By pointing the finger at America and Europe, he reduces Ukrainians to the status of passive geopolitical pawns, while at the same time dismissing the dangerously democratic notion of people power. Most important of all, blaming the West allows Putin to distract attention away from his own considerable personal responsibility for the collapse of Russian influence in Ukraine.
Source: UkraineAlert by Peter Dickinson