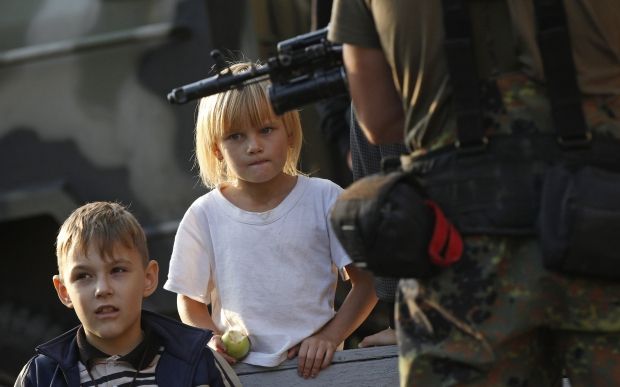 More than 580,000 children have been affected of the war in eastern Ukraine. 200,000 of them need immediate help. Who will the help the children of war in Europe? We have send this question to the primeminister and central politican in the Nordic countries.
The conflict in Ukraine is linked to the country's relations with Russia, the Russian minority in eastern Ukraine, Russia's annexation of the Crimean peninsula and the fact that the president had to resign after extensive protests in 2014.
Ukraine has become the arena for the most serious conflict between Russia and the West since the Cold War. The dividing lines between the Provost and the Pro-Russian have been clear in recent decades in Ukraine. In this situation, the United States, the European Union and Russia have not sat still, but supported the various factions. The reasons are both economic, ideological and geomacht-political.
The Nordic government has also made significant efforts to contribute to a positive development, especially to achieve economic development and to reduce corruption.
But most Nordic central politicians do very little to help end the war in eastern Ukraine and to help the people.
Children are killed and especially the children suffer.
The children have now lived for 6 years in a war zone. Children experience daily living in a war zone between the Ukrainian Army and Russian soldiers. More than 580,000 children have been affected. 200,000 of them need immediate help. A European country, Ukraine, is suffering in the "forgotten war" in Europe. Since 2014 almost 14,000 people have been killed.
The pandemic has made life even more difficult for the approximately 4 million people living in the conflict area. Following the Paris summit between the presidents of Ukraine, Russia, France and Germany in December last year, there was some optimism. It was hoped that there could be an opportunity for a peaceful solution. But the corona epidemic has so far meant that nothing has happened.
What are you doing with this dear Prime Minister and central politicians? The opposition also lacks a total commitment to contribute.
We are missing a Nordic politican going in front in this case. Who of you is taking this role for the best of children in Eastern Ukraine?
We want to contribute and help, but we need your help dear politicians.